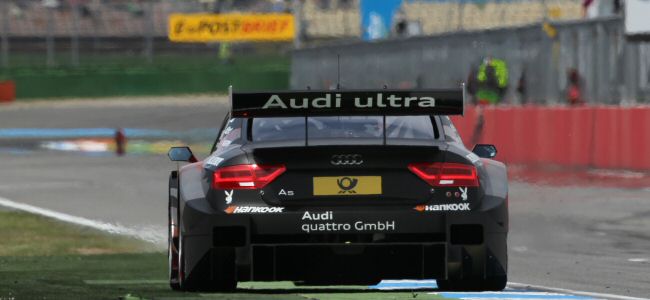 Audi head to eastern Germany this weekend hoping to emulate their success at the Lausitzring last year, as the Deutsche Tourenwagen Masters holds its second round only a week after the first.
Such is the short period of time between the two events that most of Audi's DTM team have headed straight to the Lausitzring today (Tuesday). Director of Audi Sport Team Abt Sportsline, Hans-Jürgen Abt, admits that the turnaround time between the events will be tough.
"The race at the Lausitzring is a very special one for us, as we've only got three days for preparing the cars," said Abt. "To top it off, we were the victims of several attacks at Hockenheim and have now got a lot of repair work to do."
2011 saw Audi Sport Team Phoenix take the win, with Martin Tomczyk leading fellow Audi racer Timo Scheider across the finishing line. For Ernst Moser, director of Audi Sport Team Phoenix, it remains a special circuit for exactly that reason.
"There's just enough time to take one deep breath, analyze performance and check the cars from A to Z," said Moser. "Ever since our victory last year, the Lausitzring has been one of our favorite tracks. Now we're going to attack with Rocky (Mike Rockenfeller) and Miguel (Molina)."
Mike Rockenfeller, who missed the race in 2011 after his huge accident in the Le Mans 24 Hours, summarises the importance of having sustained no damage in the previous race at the Hockenheimring, where he finished in fifth.
"In view of this short break it's important that my car came out of Hockenheim undamaged," said the 28 year-old. "So, we can concentrate on analyzing all the data and on perfectly preparing ourselves. Last year, I was forced to skip Lausitz due to my Le Mans accident. Now I want to return successfully."
Meanwhile Abt Sportsline's Mattias Ekström is hoping to make up for the victory he lost last weekend at a circuit he has won at twice in the past. The Swede admits he made a mistake at the Hockenheimring, where he lost the lead on lap five after locking his brakes, and wants to put the error behind him.
"There's no other race track in Germany that I've spent more time at than at the Lausitzring," said Ekström. "So, I know the circuit inside and out. I have a lot of respect for the competition and know that we need to improve in the race. So, let's grab the bull by the horns and try and change tack."
Despite Audi's 2011 win, the circuit is not renowned for being an Audi track. Prior to last season, the brand with the four rings had not won at the circuit approximately 100 km south of Berlin since 2005, when Ekström claimed victory.