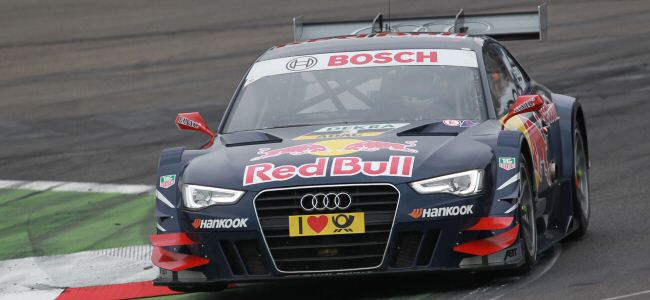 Audi left the Lausitzring on Sunday feeling 'unsatisfied' after the manufacturer failed to score a podium finish, with a best result of fifth, in the second round of the Deutsche Tourenwagen Masters.
Despite Audi drivers filling the top seven positions in second practice on Saturday, the best result in qualifying came courtesy of Mike Rockenfeller in fourth. On race day it was once again Swede Mattias Ekström who took the best result for Audi, but even the former double champion could only manage fifth behind two BMW's and two Mercedes'.
Speaking after the race, Audi Head of Motorsport Dr. Wolfgang Ullrich admitted that they had failed to get on top of tyre performance over a race distance.
"Obviously, we can't be satisfied with the result because we again failed to get the tyres on our cars to work properly in the race," said Ullrich. "Mattias (Ekström) and Timo (Scheider) made the best of their less than optimal grid positions today and improved by several places – and with very good lap times in some of the phases. Still, we've got to gain a better understanding of our A5 and fully exploit the potential. We're going to work hard on this."
Ekström was once again the best-placed Audi driver in fifth, having started from eighth. The result means that he remains third overall in the championship – albeit equal with race-winner Bruno Spengler and dropping further back from leaders Gary Paffett and Jamie Green.
"Naturally, it's a nice thing to be the best Audi driver," said Ekström. "Fifth place isn't perfect but we scored important points for the championship. We've got to continue to work hard in order to have a better pace at the next race weekend."
Immediately behind Ekström at the end of the race was his Abt Sportsline team-mate Timo Scheider. The German had started from 12th on the grid and was happy with his race, after having retired from the season opener at Hockenheim.
"It was a good race," said Scheider. "I had a really good start; there was a bit of commotion in turn one. Performance was good afterwards [and] I moved forward with a few overtaking maneuvers and a good strategy. In the end, I caught Mattias (Ekström) and that meant I couldn't advance any more. We had a nice fight. I'm glad to be taking a few points home."
Also in the points were Audi Sport Team Rosberg's Edoardo Mortara (8th) and Filipe Albuquerque (9th). For Mortara, however, he was once again disappointed with his result, just as he was after the season opener, where he finished 11th.
"These were the first points for me this season," said Italian Mortara. "I'm a bit disappointed about the result. After the start, we were running in fourth place but unfortunately I wasn't able to maintain this position. It was a difficult race for me and we know that we've got to improve."
In contrast to his team-mate, however, Portugese Albuquerque was pleased with his race performance and his second points finish of the season.
"I started from eleventh place and finished in ninth," said Albuquerque. "The team had a good strategy and quick pit stops. I was a bit faster than Edo (Mortara). For the future, I need to concentrate more on qualifying in order to have a better starting base for the race. But I'm happy that I was able to score points here again."
Audi are now preparing for the third DTM race of the season, which takes place at Brands Hatch in the United Kingdom on the 20th May 2012.