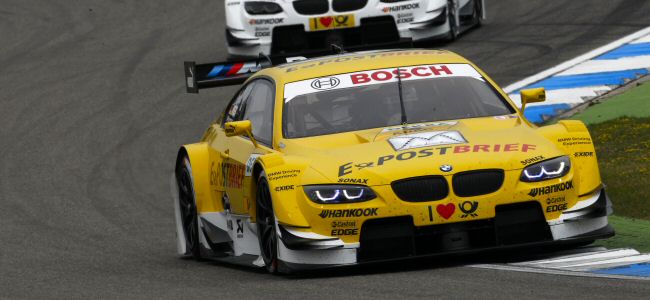 BMW Team Schnitzer's Dirk Werner has admitted that he is 'overwhelmed' by claiming third on the grid in BMW's first Deutsche Tourenwagen Masters qualifying session in 20 years.
German Werner improved throughout the qualifying session to emerge as the top BMW driver. Having finished Q1 in 13th position – some six tenths off the pace, he improved to 5th and 3rd in Q2 and Q3 respectively. In the final Q4 session, in which drivers have just one shot at pole, Werner emerged in third having been beaten to pole by Mattias Ekström and Jamie Green.
"I am overwhelmed by this result," said the 30 year-old. "I think BMW has made a great start to the season. I had a fantastic car in qualifying and that was the key to my success. This is a very special day for me.
"To be up there at the front of the field in the very first DTM qualifying of my career is unbelievable. When I consider just how hard the engineers and mechanics have worked, this result makes me doubly proud. In the winter, nobody knew exactly how we would fare. Now we have a clear idea. Let's hope this positive trend continues in tomorrow's race."
BMW Motorsport Director Jens Marquardt was full of praise for his drivers, after four made it into the top ten. Andy Priaulx qualified in seventh, Bruno Spengler in ninth and Martin Tomczyk in tenth. BMW's other two drivers, DTM rookies Joey Hand and Augusto Farfus, qualified in 16th and 19th respectively.
"Third place for Dirk Werner and four cars in the top-ten is a fantastic opening result, and far more than we expected," said Marquardt. "It proves that the hard work put in by the whole team over recent months was worth the effort."