Alain Menu ensured that Chevrolet continued their winning streak in the 2012 World Touring Car Championship after coming out on top in a frantic second race around the Circuit Ricardo Tormo in Valencia.
Click here for the full Round 4 Results.
The Swiss driver lined up second on the grid and bode his time before making the decisive move on the seventh lap, surviving a big slide at turn twelve and on the final lap contact from Tom Coronel.
Off the line Stefano D'Aste made the best start in the Wiechers-Sport BMW 320TC to lead from Menu whilst further back Tom Coronel was flying up the order. One driver not making a flying start was Gabor Weber, the Zengo Motorsport driver pulling off the track on the warm up lap. Aleksei Dudukalo also made a poor start from third on the grid, stalling his SEAT and forcing those behind to take avoiding action.
The following few laps saw Menu slowly eroding the advantage which D'Aste had opened up and on lap six Menu tapped D'Aste and stole the lead before handing the position straight back to the Italian as a result of the contact.
D'Aste ran wide at the first corner the following lap to give Menu the opportunity to move into the lead with a clean pass, which he duly accepted; behind them, Franz Engstler was taking third away from the ROAL Motorsport car of Coronel.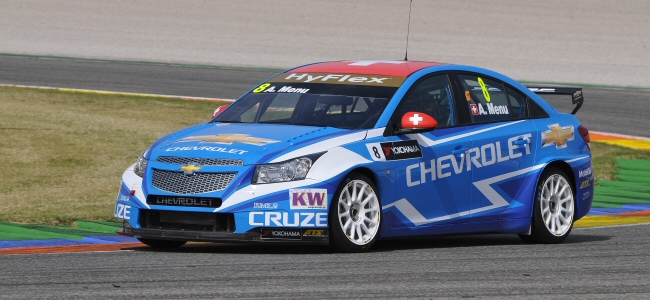 The biggest excitement came on the ninth lap as Menu, D'Aste and Engstler all ran through the gravel, which gave Coronel the opportunity to move into second, while Engstler dropped back to fifth, behind Norbert Michelisz in the Zengo Motorsport BMW 320TC.
Also losing out in the excitement was Yvan Muller, who dropped down to eighth and was unable to recover any positions by the time the chequered flag was waved.
The lead battle then saw Menu being harried by Coronel and on the final lap the two of them came together with Menu holding the slide and Coronel suddenly under pressure from the chasing BMW pack.
The Dutch driver held on to finish second behind Menu, while D'Aste finished third overall and as the leading Yokohama Independent runner. Michelisz finished fourth, ahead of Engstler, Huff, Oriola, Muller, Tarquini and Mehdi Bennani.