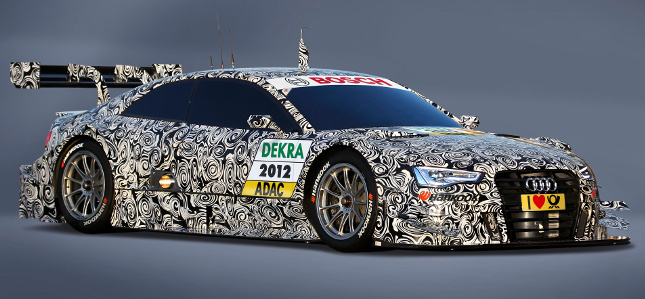 Audi have released the first photos of its final 2012 Audi A5 which it will use to contest the Deutsche Tourenwagen Masters this season.
Following the passing of the homologation deadline yesterday development has now been frozen on key technical elements of the car. Details of the car's design, CAD data, drawings and photographs have been submitted to the Deutscher Motor Sport Bund (DMSB) for approval – meaning that the car is effectively now presented in its final appearance.
Audi had been testing extensively with rivals BMW and Mercedes in recent months as they sought to extract the maximum performance out of their new car before the homologation deadline which has just passed.
"More than ever before, even the minutest detail will count this year in the DTM," said Dr. Wolfgang Ullrich, head of Audi Motorsport.  "Obviously, you want to keep the things you've worked out over the past few months under wraps for as long as possible."
A number of changes have been made to the car since its first appearance at the Frankfurt International Motor Show in September 2011 – including, but not limited to, the radiator, front splitter and rear quarter of the car.
Portuguese racer Filipe Albuquerque was one of the first drivers to get behind the wheel of the new car at the end of February. "I expected quite a bit of it," said Albuquerque. "But I wouldn't have thought that the step would be so big. Particularly in fast turns the new A5 DTM handles like a formula car. Truly fascinating! I think I'd have to readjust quite a bit if I switched back to the old A4 DTM …"
Four of the new A5's will be handed over to race preparation teams for further testing at Valencia between the 20th and 22nd of March when it will also be presented in its final livery for each team.