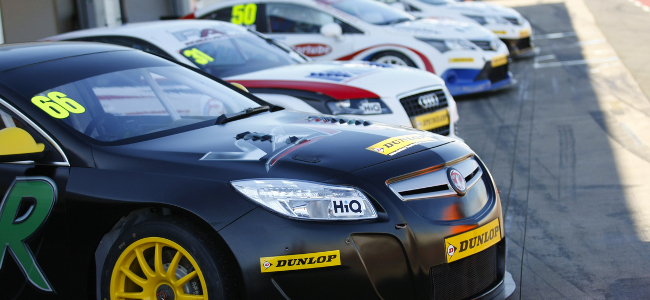 A 25 car entry list has been announced for this year's British Touring Car Championship at a sunny Silverstone Circuit.
The grid will comprise entries from nine different manufacturers in 2012, with more than half of the grid – at 14 cars – made up of the series' new NGTC machinery. All cars will be powered by 2-litre turbo engines in 2012, bringing an end to the topic of engine disparity that has become commonplace in the BTCC over the past two seasons.
Two new cars will be making their first appearances in just under two weeks time at Brands Hatch, with the brand new Honda Civic's to be fielded by the works Honda team and Pirtek Racing joined by cars from the new MG KX Momentum Racing Team being run by the successful Triple Eight Race Engineering outfit.
BTCC Series Director Alan Gow once again praised the direction in which the series is heading. "Words such as staggering or phenomenal are often over-used, but both very genuinely apply to the BTCC's current health," said Gow. "Our trackside crowd and TV viewing audience figures continue to reach new heights – Brands Hatch has advised us that ticket sales for its opening round in a fortnight are its biggest ever for a BTCC event this far in advance.
"Now, here we are, ready to start another great season and with a larger grid than at the first round last year – despite the very challenging economic climate. Once again the BTCC boasts terrific depth of competition as well as a huge and exciting variety of different makes and models of car. And I have little doubt that, just as with seasons past, the number of cars will increase as new teams and drivers take on the challenge of competing in the UK's biggest motor racing championship.
"We all know that things are tough out there, so I sincerely applaud all our teams, drivers and their sponsors for their incredible determination and the loyalty they have shown to the championship. Our own partners, Dunlop, ITV Sport, HiQ, Intercontinental Hotel Group, Dennis Publishing and Fujifilm are also companies that truly live and breathe the BTCC.
"In fact it is a ringing endorsement of the BTCC's cost-effectiveness and proven ability to deliver on a great many levels that such well-known brands are becoming increasingly involved.
"The expanded line-up of NGTC-specification cars is only going to add to the spectacle with their more intimidating presence and flame-belching exhausts. It could well be that one of them wins this year's championship, but equally a very well-sorted S2000-turbo car could also take the title. But whoever takes away the ultimate prize – and one of the most famous trophies in global motor sport – we are guaranteed a fascinating fight and an extraordinary season ahead of us."
| | | | | | |
| --- | --- | --- | --- | --- | --- |
| No. | Driver | Nat. | Team | Car | Class |
| 1 | Matt Neal | GBR | Honda Yuasa Racing Team | Honda Civic | M |
| 4 | Mat Jackson | GBR | Redstone Racing | Ford Focus ST | I |
| 5 | Árón Smith | IRL | Redstone Racing | Ford Focus ST | I |
| 6 | Liam Griffin | GBR | Redstone Racing | Ford Focus ST | I |
| 8 | Rob Collard | GBR | eBay Motors | BMW 320si E90 | I |
| 11 | Frank Wrathall | GBR | Dynojet | Toyota Avensis | I |
| 12 | Daniel Welch | GBR | Welch Motorsport with Sopp+Sopp | Proton Persona | I |
| TBA | TBA | TBA | Rob Austin Racing | Audi A4 | I |
| 17 | David Newsham | GBR | Team ES Racing.com | Vauxhall Vectra | I |
| 18 | Nick Foster | GBR | eBay Motors | BMW 320si E90 | I |
| 31 | Mark Hazell | GBR | Rob Austin Racing | Audi A4 | I |
| 33 | Adam Morgan | GBR | Speedworks Motorsport | Toyota Avensis | I |
| 34 | Tony Gilham | GBR | RCIB Insurance & HARD | Honda Civic | I |
| 38 | Tom Onslow-Cole | GBR | eBay Motors | BMW 320si E90 | I |
| 43 | Lea Wood | GBR | BINZ Racing | Vauxhall Vectra | I |
| 44 | Andy Neate | GBR | MG KX Momentum Racing | MG6 | M |
| 48 | Oliver Jackson | GBR | AmD Tuning.com | Volkswagen Golf MK5 | I |
| 50 | Tony Hughes | GBR | Speedworks Motorsport | Toyota Avensis | I |
| 52 | Gordon Shedden | GBR | Honda Yuasa Racing Team | Honda Civic | M |
| 55 | Jeff Smith | GBR | Pirtek Racing | Honda Civic | I |
| 66 | John Thorne | GBR | Thorney Motorsport | Vauxhall Insignia VXR-R | I |
| 77 | Andrew Jordan | GBR | Pirtek Racing | Honda Civic | I |
| 78 | Chris James | GBR | Team ES Racing.com | Vauxhall Vectra | I |
| 99 | Jason Plato | GBR | MG KX Momentum Racing | MG6 | M |
| TBA | TBA | TBA | Thorney Motorsport | Vauxhall Insignia VXR-R | I |