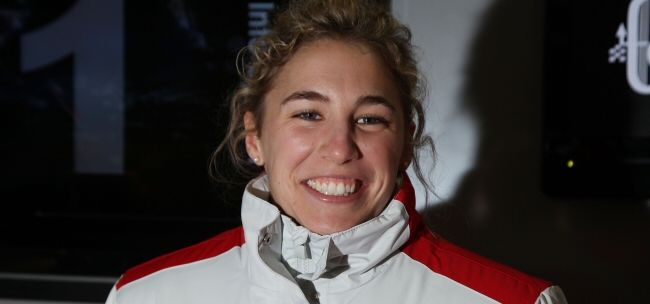 Swiss DTM racer Rahel Frey is hoping that extensive winter testing with Audi will pay off as she heads into her second season in the Deutsche Tourenwagen Masters. In an interview with Audi Motorsport, Frey admits that she is pleased that Audi have given her another chance in one of the world's most fiercely contested touring car series.
Frey made her début in the German series last year and scored a best result of twelfth at Oschersleben. Since then she has been involved in Audi's winter development program, working with the other six factory Audi drivers on the new Audi A5 DTM which will make its début at the first round this year. Frey believes that this extra preparation will help her significantly ahead of the upcoming season – prior to her first race in 2011 the 26 year-old had only tested twice for the German manufacturer.
"I'm very happy that Dr. Ullrich and Audi are giving me the opportunity to prove myself in the DTM," said Frey. "Last year, I jumped into pretty cold water. Before my first DTM race I only had two tests and during the season I hardly had any chance of testing either. I've had plenty of opportunity now to make up for that in the winter, which has tremendously helped me.
"I've got a lot more driving practice now and am sure that this will pay off. But one shouldn't forget that the DTM is still the DTM and that the air in this series is extremely thin."
The Swiss racer is making a switch from Audi Sport Team Phoenix to Audi Sport Team Abt Sportsline for 2012, meaning that she will join proven race winners Mike Rockenfeller and Mattias Ekström. Although all Audi teams work closely together Frey is hoping that being alongside the multiple race winners will be to her advantage in the coming season.
"I've known most of them pretty well from the past season because we're really a big family at Audi and all three teams are closely working together in the DTM," added Frey. "I've already paid a visit to my new team in Kempten as well. I was given a very friendly welcome and am impressed with what I saw there. At the last track tests Alex Stehlig, Mattias Ekström's engineer, took a lot of his time out for me. We practiced starts together, for example. I've got the feeling that the people at Audi Sport Team Abt Sportsline are doing everything they can to make it possible for us to be successful together."
With new regulations coming into force in 2012 predicting the form team is going to be particularly challenging. Audi have given all seven of its 2012 drivers equal status in the test and development phase of its new car and the importance of this is something that Frey is particularly aware of.
"That is a great feeling because all of us are treated equally. You can't take that for granted in motorsport. I expect to be driving the new Audi A5 DTM in its final form for the first time at the ITR test in Valencia. I'm really excited about that, the car simply looks great. The engineers from Audi Sport again had good ideas."
Frey will be in action for Audi in the DTM season opener at the Hockenheimring on the 29th April 2012.