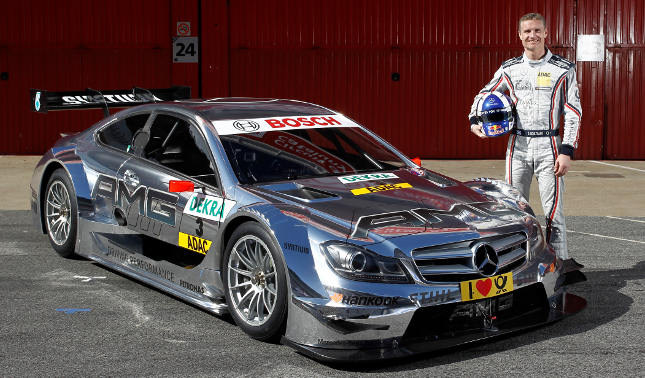 David Coulthard is to remain in the Deutsche Tourenwagen Masters in 2012, again competing for Mercedes-Benz with Mücke Motorsport.  It will be the Scot's third straight season in the series, having made his début in 2010.
Coulthard, 40, retired from Formula One motor racing at the end of the 2008 season, having driven in the series for fifteen years. He has since been the co-commentator for the UK's F1 coverage with the BBC but since 2010 has also been competing in Germany's top touring car series.
The former Formula One race winner is looking forward to the prospect of getting his hands on brand new machinery for the first time since he joined the series, having raced older-spec cars in 2010 and 2011. With new regulations coming into force this season mandating new cars, plus the addition of German rivals BMW, Coulthard is looking forward to the year ahead.
"In 2012, the DTM enters a new era. New cars, new technical regulations and a third manufacturer promise to make the championship more exciting than ever before. That's why I'm looking forward even more to my third year with Mercedes-Benz in this highly competitive championship," said Coulthard.
Having taken a best result of 8th at the Norisring in 2011, Coulthard is looking to improve his form in 2012 using the experience he has gained over the past two seasons.
"I now have two years of DTM experience to draw on. My first impressions of our DTM Mercedes AMG C‑Coupé are very positive – especially the paddle shift on the steering wheel which I know very well from my time in Formula One. In the past two years, I've had to learn a lot about the engineering, the driving technique and about DTM racing in general. I know my team well now and, after 15 years as a member of the Mercedes-Benz family, I feel really at home. In 2012, I want to continue my progress and post some respectable results."
Vice President of Mercedes-Benz Motorsport Norbert Haug is pleased that the Scot will continue his association with the marque in 2012.
"David Coulthard is one of the best-known and most popular drivers in the DTM," said Haug. "He has played a prominent role in Mercedes-Benz motorsport history since winning the first race with the then brand-new McLaren Mercedes Silver Arrow in the 1997 Australian Grand Prix. David went on to record a dozen more Formula One victories with us, including several Monaco GPs and also the classic race at Spa in Belgium. In 2001, he was Formula One World Championship runner-up with McLaren Mercedes.
"In 2012, David Coulthard will be contesting his third DTM season, and this time he has set his sights even higher. Last year, there were several races in which David was amongst the very fastest in the field over the entire distance. As soon as David can turn this speed into better grid positions and quicker starts, he will be a real contender. And this is our shared goal for 2012."