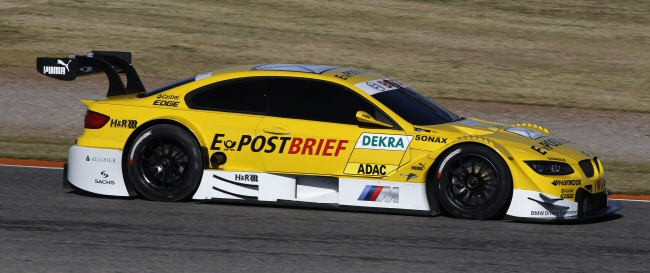 BMW teams completed a three day test at Estoril circuit in Portugal this week, racking up 969 laps in preparation for their return to the DTM this season. The returnee to the DTM was joined at the test by rival German manufacturers Audi and Mercedes-Benz.
Present for BMW at the test were former WTCC drivers Andy Priaulx and Augusto Farfus, DTM regulars Bruno Spengler and Martyn Tomcyzk, former sportscar pilot Dirk Werner and 2010's F3 Euro Series runner-up Marco Wittmann. Test and development driver Wittmann was standing in for Joey Hand, who was racing for BMW Team RLL in Sebring.
BMW Motorsport Jens Marquardt conceded that it has been a critical period for the Munich-based automobile manufacturer, with the deadline for homologation and thus a freeze on updates rapidly approaching.
"Every test is very important for us, particularly in the current phase, as we are fast approaching the homologation deadline," said Marquardt. "After this point, much of the development work on the car is subject to a freeze. Furthermore, improving the car's performance is another central issue. We were once again able to find a lot of important things in this area. All in all, we enjoyed another three positive days of testing in Estoril."
Racing for BMW Team Schnitzer in 2012 will be Germans Spengler and Werner. Both drivers were confident that steps forward have been made with the brand-new BMW M3 DTM.
"I think we made another step forward with this test," admitted Spengler. "We managed to try out many things and learned a lot. That's exactly what you want during a test at this stage of the season's preparations."
Werner also admitted that he had never before tested around the coastal venue. "It was important for me to get a lot of kilometres here under my belt in the BMW M3 DTM. We managed that, and I am constantly getting a better feel for the car. Every lap counts as we edge closer to the limit. That was my first test in Estoril. The circuit is fantastic."
Brit Priaulx and Brazilian Farfus, who both migrate to the DTM with BMW from the WTCC, were full of praise for the Portugese venue.
"The conditions were not stable, and a strong wind was blowing on the first day," added Priaulx. "At least it stayed dry, which allowed us to make some progress with the set-up. The last time I drove in Estoril was in 2008. It was great fun to return with the BMW M3 DTM. The circuit is excellent, with a lot of challenging corners."
Farfus added: "It was great to finally be back driving in Estoril. The circuit is excellent, and as a driver you enjoy every single lap here. We have worked hard, and now have three successful days behind us during which we were able to work through our programme step by step. The other DTM manufacturers were also in action here. That was interesting – and there was always a lot going on out on the track."
Reignining DRM champion Tomczyk added that the presence of rival manufacturers Audi and Mercedes-Benz made the test session that little bit more interesting.
"The wind was strong at times and is bound to have distorted the test results a little, as it was constantly changing direction during the course of the day," said Tomczyk. "Despite that, we completed our programme well. It is always special when all three manufacturers are testing together. Every so often you glance over at the opposition and take a look at the other cars. Then you quickly focus back on your own job again and get back to work."