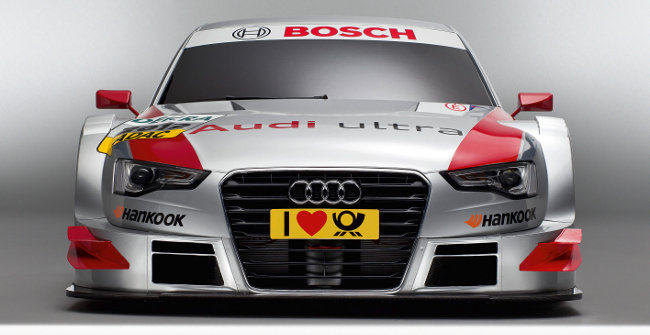 Audi have confirmed a relatively unchanged driver line-up for its assault on the 2012 Deutsche Tourenwagen Masters. The reigning champions have opted to bank on continuity with its drivers in a season that will see a raft of changes in the German-based touring car series.
Audi Sport Team Abt Sportsline will once again feature Swede Mattias Ekström and German Timo Scheider, who will be joined by Swiss Rahel Frey, who moves across from Team Phoenix as she tackles her second season in the German-based series.
However Oliver Jarvis, who has raced for the German marque for the past four years, has been dropped from the line-up in 2012. Audi fielded nine cars in 2011 but are reducing their effort to seven in 2012 as rivals BMW join the series to bolster the number of cars on the starting grid.
Audi Sport Team Phoenix features German Mike Rockenfeller, who moves over from Team Abt Sportsline and Spaniard Miguel Molina, who joins from the Team Abt Junior outfit with which he raced last season.
The onlyAudi Team to feature an entirely unchanged line up is Audi Sport Team Rosberg, which once again features Portuguese Filipe Albuquerque and Italian Edoardo Mortara. Both drivers will be looking to build on their impressive 2011 season which they finished as the best rookie drivers.
Audi will field seven brand new Audi A5 DTM's for all of its drivers and all have been involved in the testing and development program for the new car. Audi Head of Motorsport Dr. Wolfgang Ullrich emphasised that it was important for the marque that all of its drivers had the same chance heading into a new era for the DTM.
"We wanted all of our teams and drivers to start into the new DTM era with the same prerequisites," he said. "I'm convinced that with our three long-standing partner teams and the proven drivers we're extremely well set for the new DTM season which promises to become particularly thrilling due to the battle between the three German premium manufacturers, Audi, BMW and Mercedes-Benz, and will be a tough competition."
Ullrich was full of praise for his drivers, and believes that the competition will be so strong that a consistent driver line-up could prove a significant advantage in the coming season – only reigning champion Martyn Tomczyk has left the team for rivals BMW.
"Due to the tightened regulations even the minutest details will count. That's why continuity with the teams and drivers was important to us. Mattias (Ekström) and Timo (Scheider) know how to win the DTM and each of them is drawing on experience from more than 100 DTM races. Mike (Rockenfeller) won his first DTM race in 2011, Filipe (Albuquerque), Edoardo (Mortara) and Miguel (Molina) all mounted the podium for the first time last year. And I also believe that Rahel (Frey) is able to cause some surprises in her second DTM season. During the winter tests she showed that she has a lot of potential."
The DTM season begins at the Hockenheimring in Germany on the 29th April 2012.