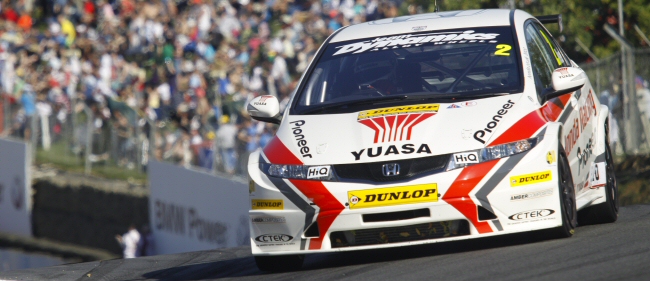 Honda Racing and their drivers, Matt Neal and Gordon Shedden arrive at Silverstone for the finale of the 2011 Dunlop MSA British Touring Car Championship with both drivers still right in the hunt for the title – and the gloves are off between the team-mates during the 2011 BTCC judgement day.
With both drivers separated after twenty seven races by a mere five points and the top five drivers covered by forty four points overall, Neal and Shedden are confident that their 2.0 turbocharged Honda Civics will be the car to beat at the 'Home of British Motorsport', Silverstone.
The team secured the 2011 HiQ Teams Championship and Manufacturers Championship last time out at Brands Hatch and they have their eyes on the Drivers' Championship at Silverstone.
Neal arrives leading the way while 'Flash' Shedden is joint second, with Jason Plato, just five points further back. This means that Neal will start the weekend with the full 45kgs success ballast on board while Shedden starts 18kgs lighter, with 27kgs.
The last of Neal's two Championship titles came at Silverstone in 2006, while driving the Honda Integra and he feels that the added success ballast will be a hindrance around the Silverstone National Circuit, he won't let it put the buffers on his charge to a third crown.
"Sometimes leading isn't the best place to be because of the weight handicap that it gives us but it also means we have done a good job up to now and we have the points on the board, which is the upside to it all. If we can qualify as high up on the grid as possible, it will give me a chance to control my own destiny. It is going to be a hard fight though."
If Neal can't bring the title home for himself, he would like to see his friend and team-mate Shedden claim his first BTCC Drivers' Championship title.
"If I can't win the championship for whatever reason, then I want 'Flash' to go and get it for the team and for Honda," added Neal. "We've both driven extremely hard and fair this season and it would be the icing on the cake for either one of us."
Shedden is determined to knock out the rest of the opposition before challenging Neal for the Championship crown. He is on the verge of his first BTCC title and he knows the importance of bringing it home for Honda Racing.
"Both Matt and I know it is important that one of us wins the drivers' title so we are going to work hard to put ourselves in that position first of all. After that, we want it to just be a fight between the two of us and in that instance, let the best man win!"
Being on the verge of the crown is the realisation of a lifelong dream for 'Flash' Shedden, providing he finishes the season as the Champion.
"This is the kind of situation you dream about when you start off in racing," he explains. "I am in a position to battle for the most prestigious crown in British motor sport and I have my team-mate in the mix with me. It is going to be a tense fight but I can't wait to get going. It has been such a great season and sealing the title would cap it perfectly."