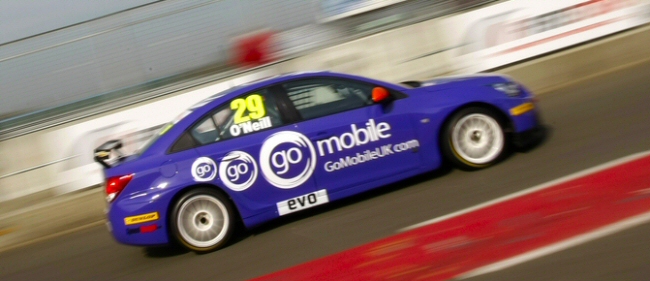 Tech-Speed boss Marvin Humphries believes that the team are in great shape for the season opening rounds at Brands Hatch – something that driver Paul O'Neill has echoed by stating that he is hoping for top ten finishes this weekend.
"We had a successful run at Silverstone last week on media day and are looking forward to the start of the season," said Humphries. "The Brands Hatch test a few weeks back was our first chance to run the Chevrolet but the day went okay and we are in good shape for the opening rounds. How we get on may depend on the turbo cars a bit, but we're confident of a good weekend."
The team, with title sponsorship from GoMobileUK.com, have acquired last year's championship-winning Chevrolet Cruze's from the works team and this has given them increased confidence. Although it will be O'Neill's newest car since 2003, he is also remaining cautious about his chances relative to the turbo-powered NGTC engined runners.
"Hopefully I'll be able to qualify inside the top six, although it won't be an easy task against the turbo-engined cars," admitted O'Neill. "If we can come away at the end of race day with three good top ten finishes and some solid points on the board, a bit like we did in the opening round at Thruxton last year, then I'll be happy.
"The car felt good when we tested at Brands Hatch and at Silverstone last week, I was only two-tenths of a second behind Jason in the works car. If we can do similar this weekend, we'll be in a good position."
Team-mate John George, who has raced a Honda Integra for the past four seasons, echoed O'Neill's comments about the NGTC engined cars. For 2010 the majority of the grid have opted to go for turbo-powered engines, with Tech-Speed and Silverline Chevrolet opting to continue with their S2000 engined units. George has targeted gaining maximum track time out of the car and finishing all three races.
"I think we need to see how the turbo-powered cars perform in practice and then we will know where we stand," he said. "My aim for the weekend is to bring home three solid results. The car felt good in the test we did at Brands Hatch a few weeks ago and I'm confident that we can build on the work we have done so far in testing.
"I want to try and get into the top ten at least once, but in my first race weekend with the car, the most important thing is to bring home three finishes and get the maximum time possible behind the wheel so I can continue to learn all about the Cruze."