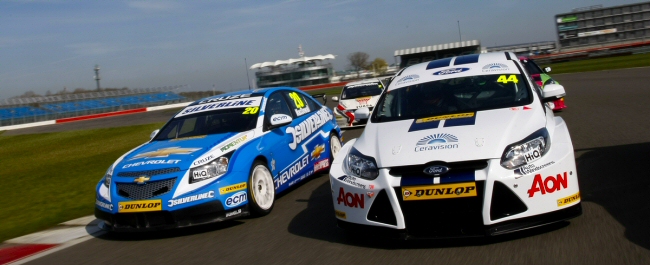 The 2011 BTCC entry list was unveiled on Thursday, with 27 entries made representing ten manufacturers and thirteen models of car. Of those, four entries were lodged as official manufacturer-backed efforts and there were five full NGTC entries.
The list was also the biggest entry since the championship switched to it's current 2.0 litre format in 1991. The previous best was that for the 1993 season.
There have been a number of late changes to several entries, the most significant being the move of Tom Onslow-Cole to the small AmD Milltek Racing team. Elsewhere Andy Neate has made the move from WSR to Team Aon, whilst Jeff Smith, who raced for Triple Eight at Knockhill last year, will now campaign a full season for Pirtek Racing alongside Andrew Jordan.
There are a host of new drivers to the championship. Liam Griffin (Airwaves Racing) graduates from the Porsche Carrera Cup GB where he drove for Motorbase last season. Tony Gilham is also making the move from the Porsche series, whilst Dave Newsham (Geoff Steel Racing) steps up from the Renault Clio Cup. Tony Hughes will be racing one of the new NGTC cars and he has previously competed in the Ginetta G50 Championship.  Frank Wrathall Jnr, who has been eyeing a step up to the BTCC for some time, enters the series in another NGTC Avensis, having raced in the BTCC supporting Ginetta G50 series last year. Wrathall's Avensis will differ from that of Hughes in that it will be powered by a Toyota NGTC engine, whereas Hughes has opted to use the TOCA powerplant.
Nick Foster joins WSR, having previously raced in the CSL Cup in a BMW last season. Daniel Welch has submitted an entry to race an NGTC Proton Gen-2 from the mid point in the season. Chris James in a Team ES Racing Chevrolet Lacetti is the last of the confirmed drivers so far, although both Rob Austin Racing and Team Aon have entries for an addition car with an as-yet unannounced driver.
The entry list in full:
1.
Jason Plato
Silverline Chevrolet
Chevrolet Cruze
2.
Matt Neal
Honda Racing Team
Honda Civic
5.
Tom Chilton
Team Aon
Ford Focus ST
7.
Mat Jackson
Airwaves Racing
Ford Focus ST
8.
Rob Collard
WSR
BMW 320si
11.
Frank Wrathall
Dynojet
Toyota Avensis
12.
David Pinkney
Rob Austin Racing
Audi A4
13.
TBA
Rob Austin Racing
Audi A4
14.
James Nash
888 Racing with Collins Contractors
Vauxhall Vectra
17.
David Newsham
Geoff Steel Racing
BMW 320si
18.
Nick Foster
WSR
BMW 320si
20.
Alex MacDowall
Silverline Chevrolet
Chevrolet Cruze
22.
Tom Boardman
Special Tuning Racing
SEAT Leon
28.
John George
GoMobileUK.com with Tech-Speed
Chevrolet Cruze
29.
Paul O'Neill
GoMobileUK.com with Tech-Speed
Chevrolet Cruze
34.
Tony Gilham
888 Racing with Collins Contractors
Vauxhall Vectra
42.
Daniel Welch
Welch Automotive
Proton Gen-2
43.
Lea Wood
Central Group Racing
Honda Integra
44.
Andy Neate
Team Aon
Ford Focus ST
50.
Tony Hughes
Speedworks Motorsport
Toyota Avensis
52.
Gordon Shedden
Honda Racing Team
Honda Civic
55.
Jeff Smith
Pirtek Racing
Vauxhall Vectra
66.
Liam Griffin
Airwaves Racing
Ford Focus ST
77.
Andrew Jordan
Pirtek Racing
Vauxhall Vectra
78.
Chris James
Team ES Racing.com
Chevrolet Lacetti
99.
Tom Onslow-Cole
AmD Milltek Racing.com
Volkswagen Golf
TBA.
TBA
Team Aon
Ford Focus ST
Lea Wood to enter from Oulton Park
Daniel Welch to enter from Snetterton