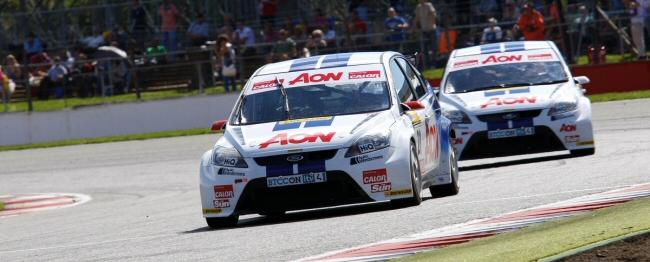 Team Aon head north of the border this weekend hoping to continue their recent strong form. The undulating Scottish circuit traditionally produces close racing and whilst it is not expected to be the LPG Ford Focus' strongest circuit, both drivers are focussed on the championship and are hoping to secure strong podium finishes.
Tom Chilton, who took two wins last time out at Silverstone, explains that the Knockhill racing circuit requires a number of strong areas in order to win.
"I need to follow up the results we had at Silverstone with some more strong performances this weekend and so I will be giving it 100% as always," said Chilton. "It will be tough, especially with the latest performance restrictions that TOCA have given our cars, but I still think we have a really strong package overall and that's what you need at Knockhill, it's not just about engine power or straight line speed."
Chilton has fond memories of the Scottish circuit, where he tasted his first victory in the BTCC – albeit only a class victory in his debut season.
"I love Knockhill it is a special place for me as I had my first ever Independents class BTCC win there in 2002 in a Vauxhall Astra. That was in the pouring rain, in fact I think most of the races I've had there since have been in difficult conditions. If it's wet this weekend then I will be happy because the way our Ford Focus handles when it's wet is brilliant. If it's dry then that's okay too, as the Arena guys have worked so hard to make sure we will have a great car no matter what the conditions are."
Tom Onslow-Cole, who is currently second overall in the drivers championship, believes that he will be in contention for podium finishes although he stops short of predicting outright wins for Team Aon. Onslow-Cole last raced at Knockhill in 2008 when he was a third driver for the work's Vauxhall team, and was forced to watch from the sidelines last year as Team Aon opted run just the one car at Knockhill in 2009.
"I'm really looking forward to racing again at Knockhill, as I didn't race there last year and it's a track I really love," said Onslow-Cole. "It's a tight twisty layout with a lot of undulation, so it's a very different challenge to Snetterton or Silverstone, but I'm confident we have made some positive chassis improvements that will help us.
"Finishing all three races near the sharp end is again imperative for the championship; a few podiums wouldn't go a miss either!"
Meanwhile Arena Motorsport team principal Mike Earle predicts that the Honda's will perform strongly at Knockhill and notably Gordon Shedden for whom it is his local race.
"We were delighted to record such strong results at the last round of the championship at Silverstone, a circuit at which we had always been tipped to do well," said Earle. "Moving on to Knockhill we are really expecting the Honda to be the car to beat and in particular Gordon Shedden, who is always quick at his home race. A consistent weekend is key for us as we move towards the conclusion of this years' championship."