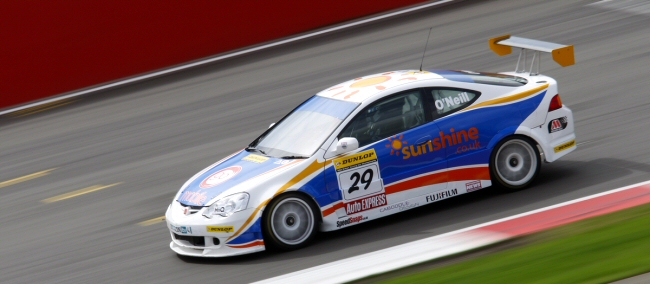 After a fine performance last time out at Silverstone, Team sunshine.co.uk with Tech-Speed Motorsport will hope to continue its strong form as the Dunlop MSA British Touring Car Championship makes its annual trip to Scotland this weekend for the eighth round of the year.
Widnes-racer Paul O'Neill took the fight to the LPG-powered Ford's at Silverstone to pick up a third podium finish of the year with his BTC-spec Honda Integra, while team-mate John George produced arguably his strongest weekend of the season — even if luck went against him in his quest to break back into the points scoring positions.
Paul heads for the picturesque Knockhill circuit sitting eighth in the overall championship standings and is just 14 points behind sixth-placed Steven Kane. Paul also sits level on points with Tom Chilton in the Independents' title race in a share of fourth place, but is just 16 points behind Kane in second.
With confidence on a high following his Silverstone performance, Paul makes the trip north of the border in buoyant mood as he looks to improve his position in both championships.
"I'm really looking forward to Knockhill, not just because of the results at Silverstone, but because I know we had a quick car there last year," he said. "I have to approach the weekend in the same frame of mind as I approached Silverstone; to go balls out and push as hard as I can.
"I have a good chance of getting into the top six in the championship but its not just about points now; it's vital for us to get good results and fight for a victory before the end of the year. I showed what the car is capable of at Silverstone and was able to split the Fords in race three, so I'm going to Knockhill looking to qualify near the front and stay there in the races."
Team-mate John was unlucky not to score his first top ten finish since the season opener at Silverstone a fortnight ago after producing two of his most impressive performances in the BTCC.
The Guernsey-based racer was closing in on the top ten in the second race of the weekend before being tipped into a spin by Mat Jackson, and then ran inside the points in race three before a mechanical issue forced him to retire.
Like Paul, John makes the long trip to Scotland confident of building on his performances at Silverstone as he seeks to add to his points tally.
"Knockhill is a great circuit," he said. "Paul was quick there last year so I'm looking to go well this weekend. After the performance at Silverstone, I'm making the trip to Scotland in confident mood. I've shown that I have the speed behind the wheel and now I just need a bit of luck.
"Confidence is high and I'm positive about my chances of scoring some points this weekend. However, Knockhill is a circuit where is it easy to get into trouble, so it's important to be careful at the same time."
The results at Silverstone provided the Tech-Speed run team with a well-earned reward for the hard work it has put in to keep the older Hondas near the front of the field, and Tech-Speed chief Marvin Humprhries said he was hopeful that the cars would again be strong in Scotland.
"Last year went well in Scotland and we should be alright again this weekend," he said. "The Fords are going to be difficult to beat with the long run out of the hairpin and they are going to be quick, but we should be able to take the fight to the rest of the field. Hopefully we can build on the results we got at Silverstone.
"There are a lot of positives that we have taken away from the Silverstone weekend as it was a good team effort. Paul did an excellent job again and John deserved a top ten finish as he was really racing on track and driving really well. He has come on a long way this year and to hear Tim Harvey and Ben Edwards talking about him in the commentary on TV shows the respect he is now getting. He hasn't had the luck, but hopefully he'll get the top ten he deserves this weekend."
Sunshine.co.uk MD Chris Brown is also hopeful that the long trip to Scotland will be rewarded with points for both drivers.
"Paul and John both did a fantastic job for the team a fortnight ago and we're optimistic of another good weekend at Knockhill," he said. "The Honda should be a strong package and both drivers have shown their speed, so there is no reason why they shouldn't be in a position to pick up more points this weekend.
"As a team we are well placed in both championships and we go to Scotland looking to take the fight to the bigger budget teams and maintain our position in the standings."
Source: Team sunshine.co.uk press release