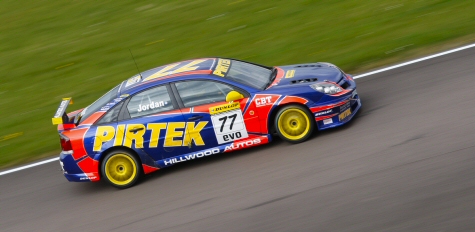 As the BTCC gears up for it's visit to the North West's Oulton Park this weekend many driver's are talking up their chances. If what the drivers are already saying is anything to go by then we're in store for a fiery weekend's racing!
Current championship leader Matt Neal is preparing himself for a physical weekend of racing, telling the official website: "It's rough to race at Oulton – just what the crowds love! There are lots of overtaking opportunities with high speed sections leading into second and third gear bits and vice-versa, plus it's also very narrow in places so the racing can and often does become quite physical there. It's something I'm always wary of arriving at Oulton, even more so this time as I've got myself into the championship lead. I'm under no illusions how tough this one is going to be."
Meanwhile Andrew Jordan is in a confident mood after he topped the test session at Rockingham last week. "The aim for Oulton is to qualify well and focus on three strong scores in the races. I'm definitely aiming for the top three and after the development we made at the Rockingham test I'm confident we'll be able to do it.
Jordan would put his bet on the rear-wheel drive BMW's for this weekend and avoided talking himself up for a debut win. "I'd say there are a good few cars who could win this weekend and so it is going to be tough," he continued. "The track will suit the BMWs with its long straights and uphill drags and you can't discount Jason (Plato) and Matt (Neal) from being at the front. We're still working hard with the new package of the TOCA Turbo engine and the Vectra but we made huge leaps forward at the test and we're in the best shape we have been all season."
Jordan's comments were also echoed by Neal, with him also admitting that Jordan's turbo-charged Vectra could be in contention. "Oulton is going to suit the BMWs – it always does," added Neal. "And the turbocharged-engined cars, the Fords and the Jordan and Pinkney Vectras, are going to take some catching on those uphill sections whereas both Jason and I are going to be on the backfoot a little in that respect as our cars will be starting the weekend with a lot of success ballast."
Airwaves BMW racer Steven Kane will be looking for another win this weekend and is hoping for hot weather. "I always look forward to Oulton Park, it is a highlight on the BTCC calendar," he said. "If the weather is warm, and it should be in June we should get some decent temperature in the tyres and more quickly too, that suits us and the Airwaves BMW. After the long break I couldn't be more raring to go, I'm hungry and fresh and after the podium in my last race result I'm confident too."
Mat Jackson echoed his team-mates comments, saying: "I think the break has been good for me and the team, we've had time to reflect and look at the car without the pressure of an imminent race.If it stays dry and warm then the BMW will do well."
And finally joint championship leader Jason Plato is looking forward to Oulton Park as he feels that he has so far not made the most of his car in 2010. After a disastrous race weekend at Brands Hatch last time out, which included two retirements due to mechanical problems, the former champion is desperate for better results. "We've definitely made progress with the car," he said to btcc.net. "We seem to have achieved a balance and a feel with the car that I'm happier with now. We've found more grip and a set-up that enables me to attack the corners that bit more which we've maybe not had up until now. We also collected a lot of valuable data which I hope, when we study it closely, means we can find a bit more again.
"Oulton is a circuit I love and it should suit our car. In the pre-season test we did there we seemed to be quick and I think we've moved the car on a bit since then. With that in mind it should reward us with some big points."