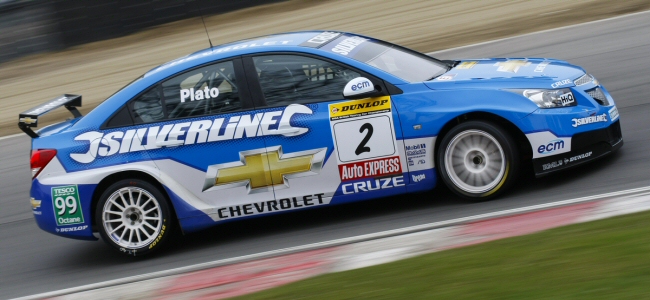 Jason Plato and Chevrolet's new Cruze threw down the gauntlet for their rivals with the fastest ever British Touring Car lap recorded around the Brands Hatch Indy circuit during official testing for the Dunlop-backed championship today.
During the afternoon session, 2001 champion Plato set a scintillating lap time of 48.662s in the Cruze as Gordon Shedden (Team Honda), Steven Kane (Airwaves BMW) and Tom Chilton (Aon Ford Focus) made it four different makes of car in the top four. Ultimately, it was a fantastic response from Plato who missed the morning session after a steering problem on his car.
Overall, less than a second covered the fastest 14 drivers out of the 20 who took part in today's test. For full times, click here: http:/www.tsl-timing.com/toca/2010/101241trg.pdf
Plato's time was some 0.155s faster than Scotsman Shedden (48.817s), on great form having rejoined the Dynamics-run Team Honda squad to drive its heavily-revised Civic.
Kane, fastest in the morning session with a lap in 48.821s, was unable to better his time in the afternoon and so slipped to third but it was also a terrific effort from the Northern Irishman on his return – after a year out – to the Motorbase-run Airwaves BMW outfit.
Chilton's fourth fastest time underlined the progress being made Team Aon with its new LPG technology that is powering its two Ford Focus STs. Team-mate Tom Onslow-Cole, concentrating on longer runs, was eighth.
Just ahead of him and behind the top four came Shedden's team-mate Matt Neal (fifth on 48.930s), Robert Collard (sixth in WSR's BMW on 48.963s) and Plato's young rookie team-mate Alex MacDowall, an impressive seventh on 49.109s.
'Fans favourite' Paul O'Neill was ninth in his older but nevertheless still-potent BTC-spec Honda Integra. Some people are tipping the Sunshine.co.uk with Tech-Speed Motorsport driver to be a strong contender in the BTCC's opening round at Thruxton (Sunday 4 April) as it is a circuit that has always suited the Integra's slippery shape.
Close behind, Andrew Jordan was tenth fastest in his Pirtek Racing Vauxhall Vectra that is using BTCC organiser TOCA's new turbocharged NGTC engine. The identically-powered Vectra of Pinkney Motorsport's David Pinkney also lapped at a similar pace, 12th fastest overall.
A low key 11th by his standards was Mat Jackson on his debut outing for the Airwaves BMW squad. It is understood that he and Kane were experimenting with different set-ups, with Jackson also concentrating more on longer distance runs.
Andy Neate, returning to racing after 18 months out with injury, was 13th fastest in his WSR BMW ahead of Matt Hamilton, an encouraging 14th in his BTC-spec TH Motorsport Honda Civic Type R. Hamilton had earlier caused the only stoppage of the day when he slid wide and nosed into the barriers at Clearways. He was later delayed when his car's fifth gear failed.
O'Neill's team-mate John George was next up followed by Tom Boardman in his Special Tuning UK SEAT Leon, although he reported his day's running had been blighted by a persistent engine mapping problem.
The ever-jovial Martin Johnson was 17th and within 1.5s of the ultimate pace in his Boulevard Team Racing Vauxhall Astra Coupe. Newcomers Lea Wood (Central Racing Group Honda Integra) and Arthur Forster (Forster Motorsport BMW) rounded out the timed runners. Forster managed only a dozen laps in the morning before his car's engine developed an oil leak – but at least he was able to take to the track; team-mate Martin Depper was unable to participate after his car's powerplant had failed in a test at Croft late last week.
Shaun Hollamby's stunning new AmD Technik Racing.com VW Golf was also on track, although no official time was registered. It was not until the end of the day, as well, that Hollamby finally enjoyed ten trouble-free laps, he and his mechanics having spent much of the day curing a misfire.
This is a touring-cars.net test post.