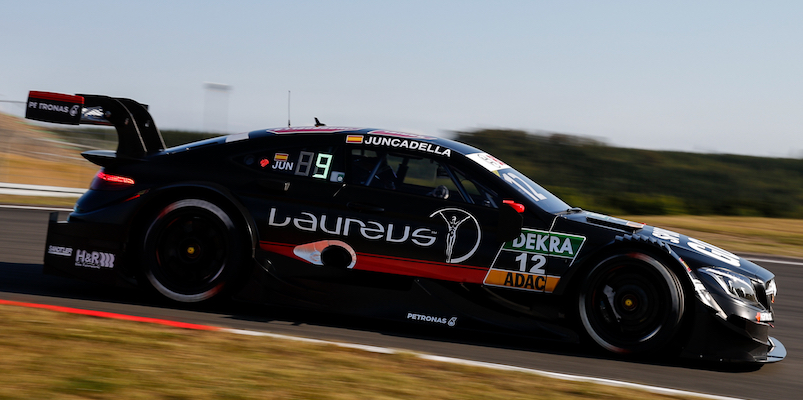 It was a day with its fair share of ups and downs for Mercedes-AMG DTM's Daniel Juncadella, who has shown a return to form recently, since the chassis was changed on his C63 AMG Coupé DTM back at Zandvoort.
The 25-year-old showed great pace and put his HWA Mercedes sixth on the grid, before he started ahead of the fastest car in qualifying, Mücke Motorsport's Lucas Auer, who served his five-place grid penalty following the event at Moscow Raceway.
He had a lightening start at lights out, which saw him force his way between the two Audi Sport drivers in the form of Jamie Green and Edoardo Mortara, hunting for third place behind race winner Marco Wittmann and runner-up Tom Blomqvist, before slipping back to fifth by turn four.
After running at the sharp end of the grid for the best part of 15 minutes, Juncadella was battling for fourth position with Jamie Green ahead of Bruno Spengler, before the latter spun him out at turn five.
He felt that "today could have been a good day for me," in what could have potentially been his best position of the season, having only secured one top ten finish at the first race in Zandvoort with eighth place.
"The race was a lot of fun. I got off to a mega start and was already up to third going into the first corner," explained Juncadella, who considered the incident with Spengler as just "bad luck."
"Unfortunately, I wasn't able to hang on to this position. My pace was good and I saved my DRS for the end of the race. Then it got a bit chaotic out there on track, and I managed to move up to fourth, briefly even third.
"But that's when I got pushed by Bruno. He misbraked and apologised to me afterwards. But that sort of thing happens in racing."
Spengler received a drive-through penalty for his actions, meaning the Canadian had no choice but to accept the decision, and refocus for the feature race.
"My start was good. I made up some places and was able to go with Daniel Juncadella. The pace was generally okay up to the middle of the race. Unfortunately, I then saw a gap and tried to overtake Juncadella," explained the 2012 champion, who was not the only driver to be involved in contact during the action-packed race.
"The wheels locked up and I really tried to stay on my line. Unfortunately, the front axle got away from me a little and I made slight contact with him. There was absolutely no intent and I have apologised to him. The penalty was harsh, but you have to accept it and focus on tomorrow."