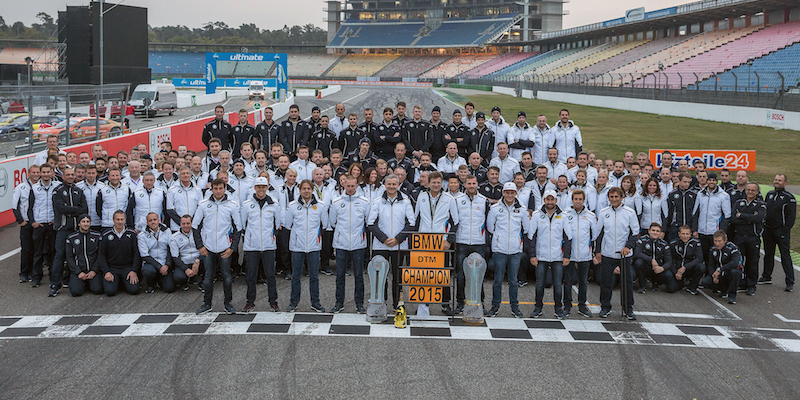 After their fourth season since their return to the Deutsche Tourenwagen Masters (DTM) back in 2012, BMW Motorsport announced that they will be retaining their current line-up in the series for the forthcoming 2016 campaign.
The Munich manufacturer was able to score enough points to secure the Constructors' Championship at the season finale at Hockenheim back in October, after the potential setbacks after the first few races of the year could have seen them out of contention.
We definitely have an exciting 2016 motorsport season ahead of us," explained Motorsport Director Jens Marquardt at the traditional season review at the BMW Museum in Munich.
"For one thing, BMW will be 100 years old, and that obviously gives us extra motivation to present the brand with as much success as possible to mark its anniversary. Now in our fifth DTM season since returning to the series, we are putting our faith in continuity within our squad of drivers and teams.
"'Never change a winning team' is our motto for 2016, when we hope to achieve more wins and titles."
The line-up includes three recent champions in the series in the form of Marco Wittmann, Bruno Spengler and Martin Tomczyk. António Félix da Costa,Tom Blomqvist, Timo Glock, Augusto Farfus and Maxime Martin also will stay in the squad, but the driver and team designations have yet to be announced.
Da Costa took home the "Allrounder of the Year" award, as a result of his efforts in both DTM and Formula E, whilst Blomqvist was awarded the "Rookie of the Year" trophy.
All eight drivers and the four team prinicpals, RMG's Stefan Reinhold, MTEK's Ernest Knoors, RBM's Bert Mampaey and Schnitzer's Charly Lamm, received the "Team Spirit of the Year" award, following on from BMW's impressive fightback this season in the DTM.
Mercedes-AMG DTM are the only manufacturer that has yet to announce their drivers for the 2016 season, which starts at Hockenheim on the 6th of May, with the DTM Festival kickstarting the action.