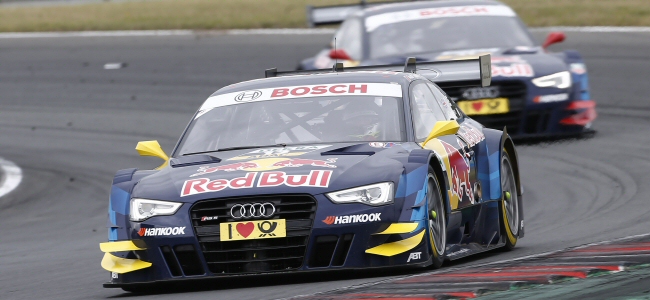 Team Phoenix's Mike Rockenfeller and Abt Sportsline's Jamie Green took podium finishes in round eight of the Deutsche Tourenwagen Masters at Oschersleben in a race which saw all eight Audi drivers finish inside the top ten.
Brit Green started from pole position and led a significant portion of the early stages of the race up to his second pitstop. However the former Mercedes pilot was unable to prevent championship leader Rockenfeller emerging in front after the final stop, and Green followed the Phoenix racing driver home for a first podium of 2013.
"It's great to be standing on the podium for the first time in my new Audi racing suit," said a satisfied Green after the race. "It's nice to have accomplished this. Sure, I should be able to do better than take third place, but I'm happy about my improvement."
Green added that he is anticipating challenging for race wins more often in the final stages of the season, as his confidence grows in his first season with Audi.
"My speed in the race was really good," added Green. "If we take that with us into the next races we'll have the possibility to win."
Rockenfeller's second-placed finish was his fourth podium finish of the season and sees him open up a 33-point advantage over BMW's Augusto Farfus, his only other championship challenger. Rockenfeller finished 6.298 seconds behind Farfus, admitting that he was not as fast as the Brazilian at the end of the race.
"The second place feels good," said Rockenfeller. "For a brief moment, I was thinking that I might be able to win. But it soon became obvious that Augusto was a bit stronger than we. That's why I took it easy on the car and brought second place home.
"These were important points for the Championship again. A podium in the DTM can't be taken for granted. That's why I'm enjoying the fact that I've received a trophy here at Oschersleben."
Hailing Audi's achievements at Oschersleben, Head of Audi Motorsport Dr. Wolfgang Ullrich congratulated his drivers after all eight scored points for the first time in the three-manufacturer era of the DTM.
"Being able to congratulate all your drivers after a race is not a common occurrence in the DTM," said Ullrich of the achievement. "Today it's been the case. Ever since we've been battling against BMW and Mercedes-Benz in the DTM no manufacturer has managed to score points with eight cars. And it's been a very, very long time that a brand has had eight cars in the top ten in a DTM race. We managed to do this today at Oschersleben – and everybody at Audi Sport and in the three teams can be proud of this."