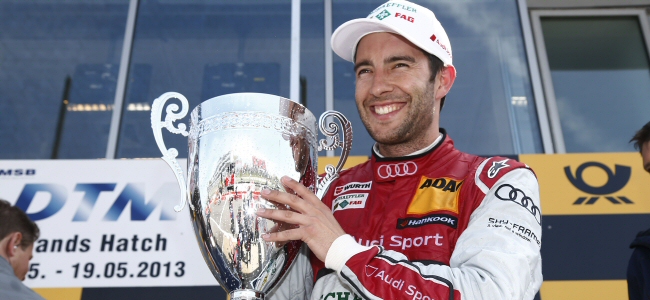 Audi's Mike Rockenfeller admits that he was in little doubt about taking his second-ever Deutsche Tourenwagen Masters victory at Brands Hatch yesterday, saying "we had the race under control".
Rockenfeller, 29, inherited pole position from BMW's Martin Tomczyk when the former champion was thrown out of qualifying for having an underweight car. In the race, Rockenfeller led from start to finish to secure his second DTM win, with everything going to plan for the German.
"Of course I'm happy and relieved that we put the things we'd been planning for on track," said Rockenfeller. "In the DTM, in the race, all sorts of things can happen.
"Obviously, we had a superb foundation with the great qualifying session yesterday. Then it was up to me to perform a good start, and that worked out too. Afterward, my team and I gave everything. I tried to push on each lap. I think you could tell that we had the race under control."
Audi Sport Team Phoenix boss Ernst Moser added that whilst the team wanted to celebrate their first DTM victory since Brands Hatch in 2011 the party would have to wait until the end of the Nürburgring 24 Hours, which the team and Rockenfeller were also participating in on Sunday and Monday.
"It's simply a great feeling when everything works out on the whole weekend, if you take the pole position, then have a good car for the race and the driver does everything right as well," added Moser. "The pit stop strategy fitted too – and so, in the end, you stand at the very top. We're going to enjoy this now but postpone the party because we're still active at the Nürburgring 24 Hours."
Rockenfeller and his Phoenix Racing team went on to finish fifth overall in the Nürburgring 24 Hours on Monday.